The continued development and improvement of professional skills and competences is the primary focus of the company. Velvet CARE gives its employees an opportunity to develop within their chosen career paths and take part in diverse courses to improve their professional qualifications.
Our employees begin to work on their skills from the very first day of their employment, when they gain knowledge about the company, WHS (Workplace health and safety), and quality control. They are then given the necessary information which is specific to their position in the company.
Any employee who is motivated to develop has the ability to expand their competencies as part of comprehensive projects and receive support from their experienced colleagues and supervisors.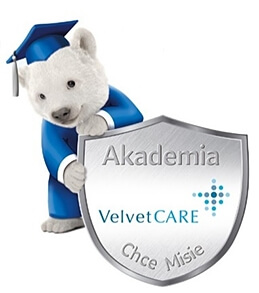 Velvet CARE gives everyone the chance to demonstrate their knowledge, creativity and inventiveness. For several years now, Velvet CARE Academy has been running in-house training courses, where employees train other employees. Any initiative positively evaluated and implemented is rewarded under the "Improvements and Innovations" programme.
Development is one of our key values. Velvet CARE invests a lot of effort in supporting the professional progress of its employees.
The examples of numerous careers and experiences as well as long-term tenures at the company show that limitations exist only in our minds.